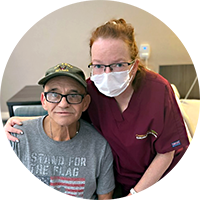 "I am going home today. I was in room 122A. I arrived here on April 1st after back surgery and a shoulder operation. I have been to other rehabs and Chestnut Woods is by far the best by my view. The nurse Cathy during the day, is amazing and knows her job. She also has so much compassion for her patients. She is one of a kind. Also, Tedi, the night nurse was very nice to me always. She is a very good nurse who I can tell really enjoys her job and taking care of her patients. The nurses aides who really stood out to me were Margaret, Renette Noel and Kettia. Margaret is probably one of the nicest people I've ever met, and I am not exaggerating one bit. Renette Noel is also in that category of super nice people who is very quiet but passionate about treating people how she would like to be treated which means so much as a patient. Kettia is also in the same class as the others. I could go on and on about all these people. William and Pam from PT also stood out as exceptional providers who really knew what they were doing. Rose, the concierge on my floor was exceptionally helpful with any questions that I had. Her personality and respect she showed everybody that I noticed she spoke to was above and beyond. I would appreciate if these employees get some kind of recognition for their exceptional service to the patients in your facility. You are lucky to have them, and the patients are as well."
– Barry Taylor
---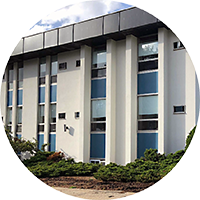 "This place is great. 5 stars! I plan to recommend to all of East Boston neighbors." 
– Christopher Milford
---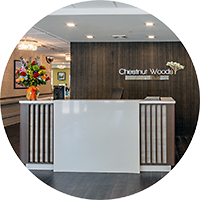 "I feel heard and included in all parts of my rehab stay. They get me up and moving!"
– Charlotte Connor
---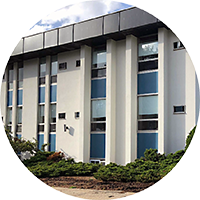 "Both my wife and my best friend have been to Chestnut Woods. I cannot say enough good things about the staff here. I recommend this facility to everyone." 
– Ed Strong (friend of Roy Molyneaux)
---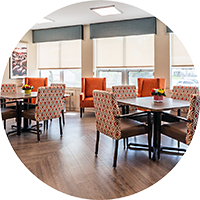 "The staff is unbelievable. I was so nervous having my husband go to a nursing home, but I leave here feeling good about the choice I made. Everyone from Ann at the front desk to all the aides on the floor are wonderful. Since being here he has come out of his shell by participating in all the activities."
– Ruth Comeau (wife of Cederic Comeau)
---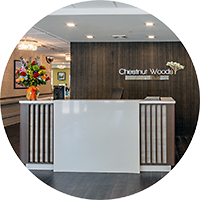 "The receptionist has a bright personality and wonderful attitude as you walk through the door. The care at Chestnut woods is exceptional." 
– Donna Chipman
---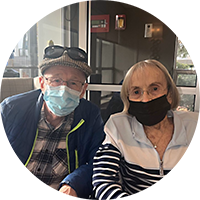 "The CNA Angel has been wonderful. He is always so helpful!"
– Jeanne Martel
---
"Chestnut Woods has a very warm atmosphere. The people are kind and the staff goes above and beyond. The care is wonderful!"
– Susan Kendall
---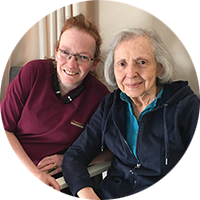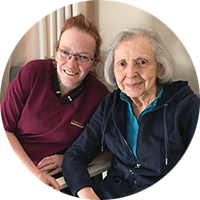 "The physical therapy has been very good and has really helped me a lot. I'm still in the process of improving! Nurse Kathy has been very good and has taken great care of me!
The people here are very friendly and go out of their way to help!"
– Athena Hartwell
---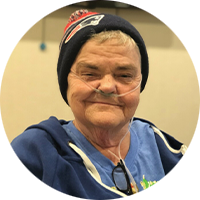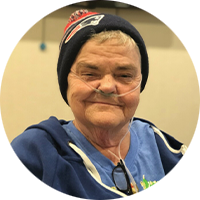 "Every chance I get I recommend Chestnut Woods!
I was 98 pounds when I arrived. Their physical therapist got a hold of me and before I knew it, I was walking and felt so much stronger! With the right nourishment, I was able to build muscle and they were able to get me on my feet. There is nothing like this place. I broke my hip and that is why I am here for a fourth stay. I have gone to four other rehabs and at each of them they sent me home much sicker than when I came to them. Chestnut Woods is the best! They know about respiratory care and if they say they know something I trust that they do. The staff is very friendly and are dedicated to their residents.
I really believe in this place and will never go anywhere else."
– Lorraine Curran
---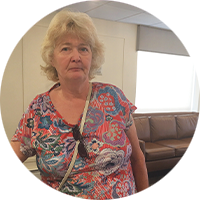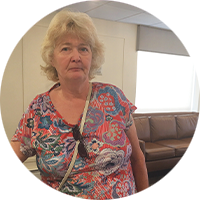 "When I came to Chestnut Woods I didn't think I would be able to walk out the front door, and here I am walking in for a 'visit '. I looked forward to going to the gym and laughing with the girls. I made some forever friends with my roommate and a few other residents here. I would definitely recommend Chestnut Woods to anyone after a hospital stay to help get them back on their feet."
Ann Dixon
---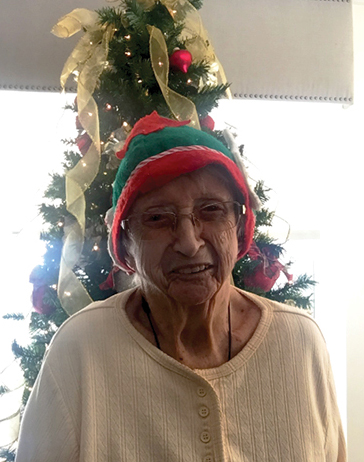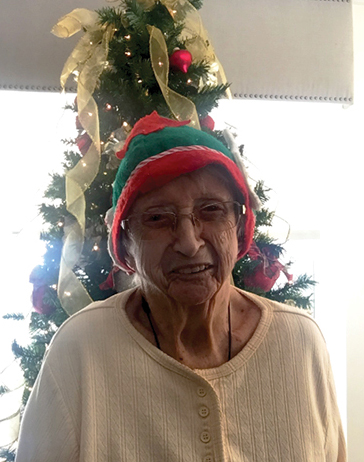 THEY REALLY LISTEN AND CARE!
"This is my second time back at Chestnut Woods due to a fall at home and although I would rather be home there is no place I would rather be than here at Chestnut Woods when I need to rehab. The entire building is so clean and the food is very, very good. Everyone treats me so nicely here and makes me feel really special. The team is very considerate and truly takes the time to be patient and listen to my concerns. I could see how this team is really committed to each other, especially Kim and Fallon in the Rehab Department. Chestnut Woods truly has the best team money could buy!"
E. Simmons
---